Bohemia Interactive Simulations Ltd | Bohemia Interactive Simulations Introduces New Software Development Toolkit with Release of VBS IG v2.3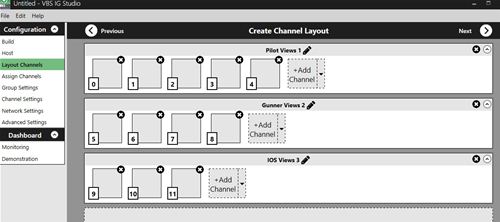 New Software Development Kit Offers User-friendly Tools and Source Code Access for Customization
Orlando, FL — Bohemia Interactive Simulations (BISim), a global developer of military training and simulation software, introduces a comprehensive development framework called VBS IG SDK as part of its VBS IG 2.3 release.
VBS IG 2.3 and VBS IG SDK are available for VBS IG customers to download at BISim's Online Support Portal, bisimulations.com/support/downloads.
VBS IG is BISim's highly capable and cost effective image generation solution, which uses commercial video game technology to deliver traditional IG capabilities for part-task and full-mission simulators. VBS IG renders out-the-window and sensor scenes, depicting real-world terrain with large numbers of moving entities across multiple channels.
VBS IG includes the following features:
Day/dusk/night & all weather operations
Stable frame rates supported by comprehensive scene management
Synchronized multi-channel support
Large area terrain and WGS-84 coordinates
Mission functions include collision detection, height above terrain, and laser range finding
Sensors including electro-optical, infrared and night vision
3D spatial sound
Supports an array of display configurations and distortion correction
Support for point lights, enabling customers to simulate night scenes with improved fidelity
"VBS IG SDK is the image generation solution designed with developers and integrators in mind," said Cory Kumm, BISim's vice president of corporate development. "The tools and source code access provided with VBS IG SDK allow developers to customize and extend virtually every aspect of VBS IG to produce custom applications."
"One of the new tools included in our SDK that will make developers and integrators' lives easier is VBS IG Studio," Kumm said.
"VBS IG Studio provides a user-friendly system that allows for configuration and deployment of multiple channels within minutes," he said. "The user interface helps guide the setup process through a wizard-based system, allowing developers to easily save and reuse IG settings, identify views, reconfigure views in real time, and manage build copying and launching on remote VBS IG agents."
In addition to VBS IG Studio, VBS IG SDK includes the following:
VBS IG-specific C++ APIs and sample source code for customization
Debugging Tools and Visualization for optimization and performance feedback
VBS3 host to IG Connectivity
Detailed documentation including tutorials
"VBS IG SDK users will also have access to our industry-leading support team, dedicated to assisting customers with their integration projects," Kumm added.
Customers who buy VBS IG SDK today will receive 50% off the license fee as a special incentive to encourage early adopters. This offer is valid until the end of 2016.
VBS IG is the only industry-leading open and modular game-based virtual simulation development framework that has been fielded across multiple application domains — land, sea and air. A version of VBS IG is in use at more than 10 military installations where the U.S. Army runs collective training programs that provides armor, mechanized infantry, cavalry and recon crews, units and staffs with a virtual, collective training capability.
BOHEMIA INTERACTIVE SIMULATIONS
Founded in 2001, Bohemia Interactive Simulations (BISim) is a global software company at the forefront of simulation training solutions for military and civilian organizations. BISim utilizes the latest game-based technology and a large, experienced in-house team of engineers to develop high-fidelity, cost-effective training and simulation software products and components for military applications. Learn more at bisimulations.com.

Credit: Bohemia Interactive Simulations Ltd | Bohemia Interactive Simulations Introduces New Software Development Toolkit with Release of VBS IG v2.3